Permanent Exhibition
Discover the artistic and cultural heritage of the Goetheanum during your on-site visit!
Sculpture Group
Starting in 1915, Rudolf Steiner and the English sculptor Edith Maryon (1872-1924) worked on a large wooden sculpture: 'The Representative of Humanity between Lucifer and Ahriman'. The sculpture was to be placed at the back of the Goetheanum stage. Due to his death in 1925, Rudolf Steiner was not able to finish carving the monumental statue, which is over nine meters high. In this room one can also see, among other things, the seven preliminary models from the nine years of work on the sculpture.

Visiting Hours
Architectural Models of Secondary Buildings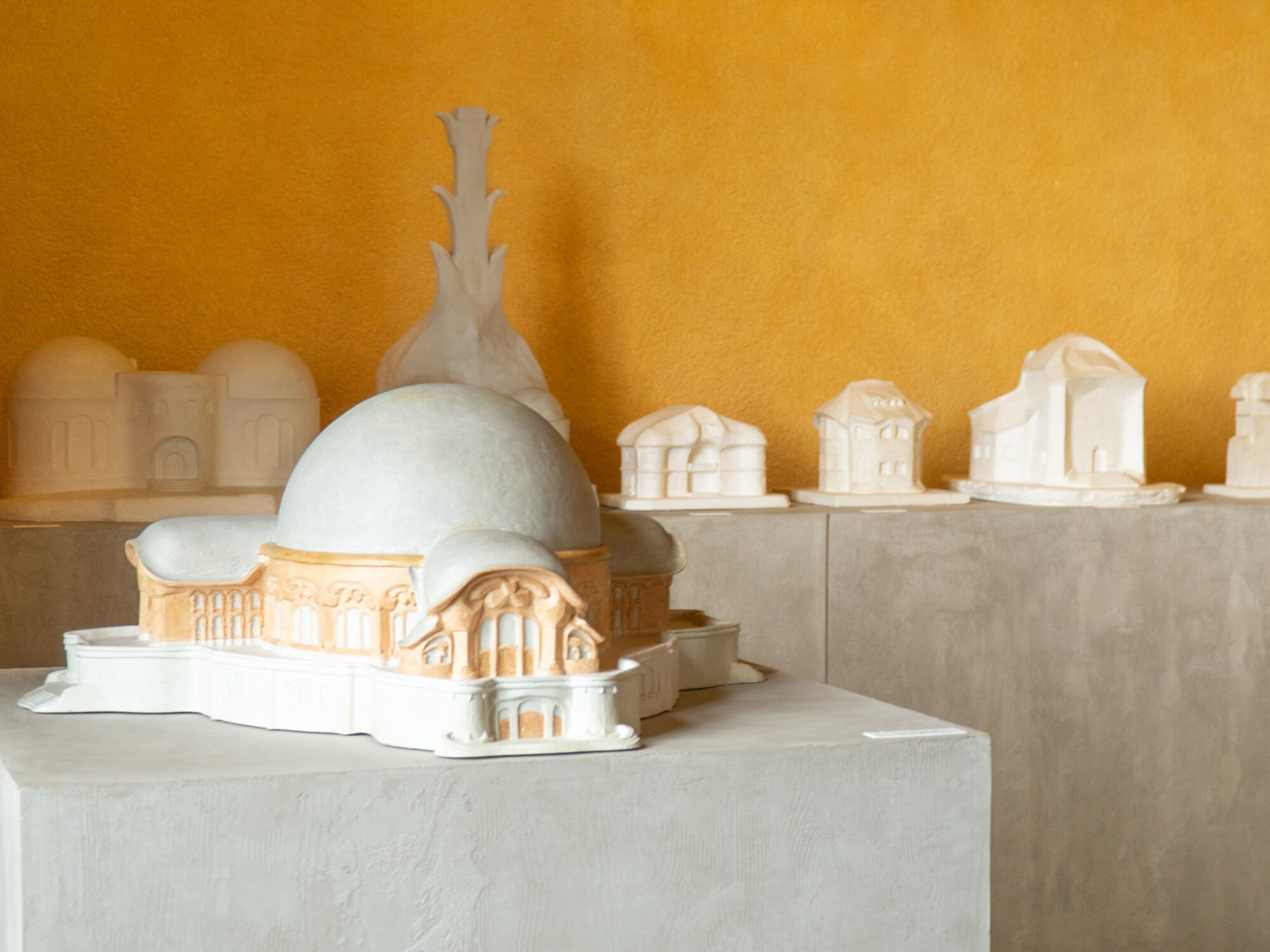 Over the past 100 years, numerous houses have been built on the grounds around the Goetheanum that incorporated or transformed the architectural style of the Goetheanum. On the south staircase vestibule on the fifth floor, casts of the original models of the First Goetheanum, numerous other buildings and the successor building, the Second Goetheanum, all designed by Rudolf Steiner, are on display. The architectural models show the metamorphosing change from the First to the Second Goetheanum through a chronological sequence of the architectural forms of the various subsidiary buildings.

Main Building · Southhall · 3rd Floor. Same Opening Hours as the Goetheanum
Construction history and model of the First Goetheanum
The exhibition gives an impression of what the first Goetheanum looked like and what intentions were connected with this building. The center of the exhibition is a walk-in model of the building on a scale of 1:20. Around it, texts, photographs and objects give a picture of its development. The exhibition invites visitors to form an inner picture of this unique building and the ideas and intentions expressed in it.
Opening Hours
Metamorphosis in Goethe
'The discovery of wholeness - metamorphosis and organism as principles of life' - this is the title of the exhibition of the Section for Agriculture and the Natural Science Section at the Goetheanum on color, plant, animal and agriculture. Polarity and intensification in colors, the plant as a master of mobility, the animal as perfection in specialization, and the human being as a designer, using agriculture as an example, are the themes of this exhibition.
Opening hours: Friday from 13.00 to 14.00.