Veranstaltungen bis zum Morgengrauen im Gedenken an den Brand des Ersten Goetheanum vor 100 Jahren. Mit Silvesteransprachen und Eurythmie, Lesungen, Gedanken, Meditationen, Workshops, Feuerschalen, Ausstellungen und Neujahrskonzert am Morgen Aktualisiertes Programm: goetheanum.org/nachtwache.
Events until dawn in commemoration of the burning of the First Goetheanum a hundred years ago. With New Year's addresses and eurythmy, readings, thoughts, meditations, workshops, fire bowls, exhibitions and a New Year's Concert in the morning.
In the last night of the year 2022 we will commemorate the Burning of the First Goetheanum a hundred years ago. In that cold winter's night, thousands of people gathered to see the gigantic fire that lit up the surrounding landscape all the way to Basel. Anthroposophy would not be Anthroposophy and Rudolf Steiner not the tireless mind he was, had not the beginning of something new been born on the very next day from this tragic event that destroyed so much work and artistic creativity. It is the great Die and Become in the history of Anthroposophy. We will commemorate this moment with a night vigil, a staying awake together in anthroposophical style: with many initiatives spread around the entire Campus. The long night will start on New Year's Eve at 10 pm. There will be readings of eye witness reports in Helene Finckh's house where Rudolf Steiner spent the night of the fire, followed by the Foundation Stone Meditation at midnight with concerts before and after, inside and out. Fire bowls across the Campus will invite to conversation, a guided star observation to silence. A New Year's Eve address will take us into the New Year and a New Year's Concert into the new day. We wish spiritual fire to all of us and to the history of the burning in this night in and around the Goetheanum!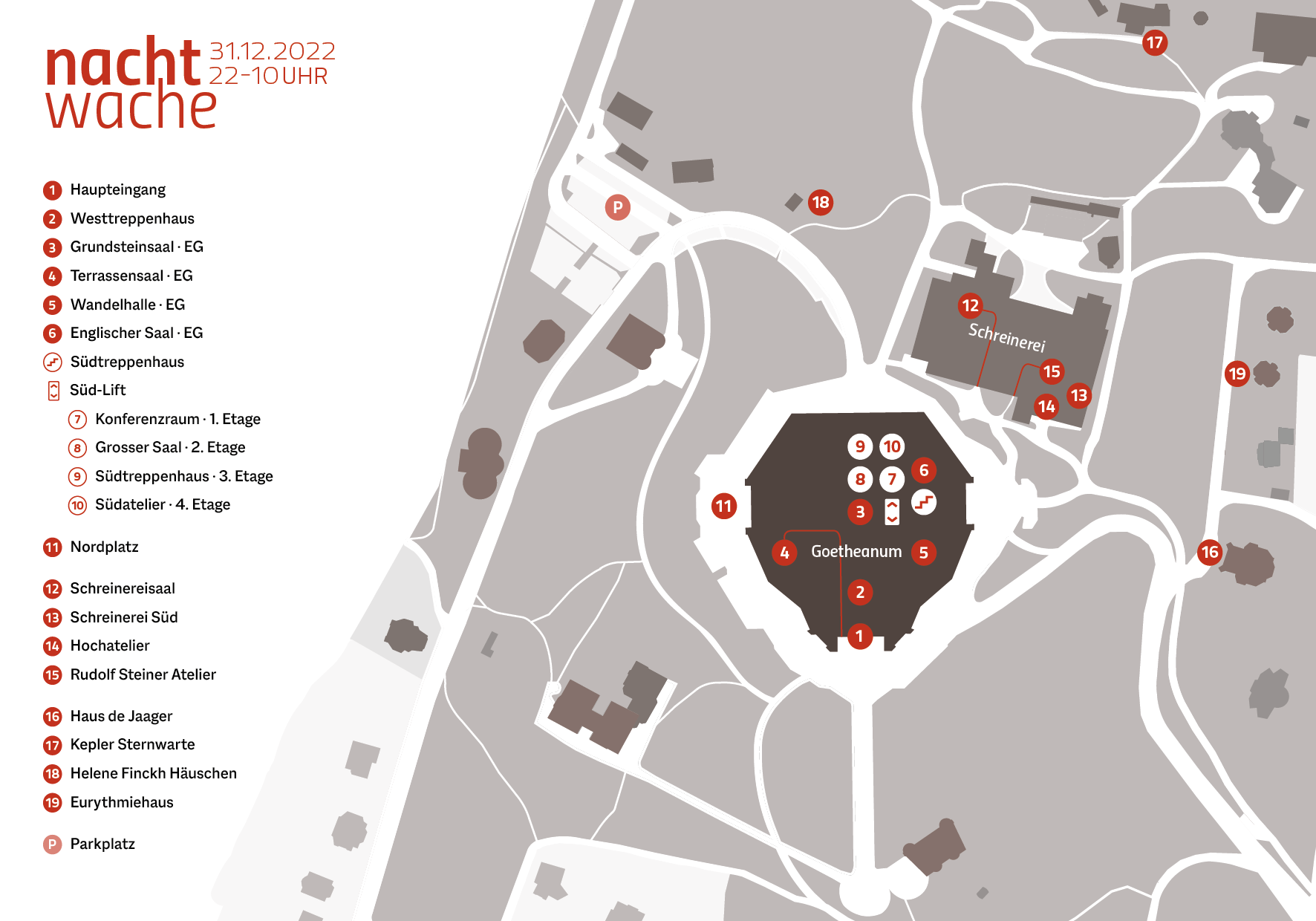 10 pm
Address
On New Year's Eve
Constanza Kaliks
Foundation Stone Auditorium, ground floor (3), in German

Violin recital
Ciaccona
Emmanuel Vukovich
Schreinerei Auditorium (12)

Reading
Rudolf Steiner's last lecture in the first Goetheanum
Jens Bodo Meier
Terrace Room, ground floor (4), in German

Reading
By the fire
Singing and hot punch
Andrea Pfaehler, Torsten Blanke
Nordplatz (11)

Eurythmy
Walking in the Larynx of the Gods
Hans-Peter Strumm
South Studio, 6th floor (10), in German

Film
The First Goetheanum
Human and cosmic architecture
Bernard Bonnamour
English Auditorium, ground floor (6), in German

Exhibition
Sculpture Group
South Staircase 5th floor (9)

Exhibition
History and model of the First Goetheanum
Schreinerei South (13)

Exhibition
Room of the sculptor Edith Maryon
Eurythmy House (19)
11 pm
Reading
Die Hymnen an die Nacht
(Hymns to the Night)
Novalis
Catherine Ann Schmid
Schreinerei Auditorium (12), in German

Lecture
Reports of the night of the fire
Letters, newspaper reports, memories
Peter Selg
Foundation Stone Auditorium, ground floor (3), in German

Reading
...die Kuppeln… redeten innige Worte…
(…the cupolas … spoke heartfelt words …)
The First Goetheanum: poets and artists look back:
Andrei Bely, Albert Steffen, Assia Turgenieff, Alexander Strakosch and others
Christiane Haid
Terrace Room, ground floor (4), in German

Social Art
Nocturnal Creations
Illustrating 100 poems
Christiane Quaas
Conference Room, 1st floor (7), in German

Reading
By the fire
Singing and hot punch
Andrea Pfaehler, Torsten Blanke
Nordplatz (11)

Reading
Apokalypse - die Enthüllung durch Johannes
(St John's Book of Revelation)
A listening meditation with words and music. Part I
Richard Schnell, Johanna Lamprecht
South staircase 5th floor (9), in German

Guided star observation
Journey through the planetary world
Moon, Mars, Jupiter and Uranus
Wolfgang Held
Kepler Observatory (17), in German

Exhibition
Helene Finckh House
Where Rudolf Steiner spent the night of the fire (18)

Exhibition
Rudolf Steiner Studio
Schreinerei, entrance on the right (15)

Exhibition
Hochatelier
Rudolf Steiner's and Edith Maryon's carving studio
Schreinerei blue façade (14)
Midnight
Eurythmy performance
Foundation Stone Meditation and Michael Imagination
Goetheanum Eurythmy Ensemble
Admission until 11.55 pm
Main Auditorium (8)

Film
The First Goetheanum
Human and cosmic architecture
Bernard Bonnamour
English Auditorium, ground floor (6), in German
1 am
Eurythmy Performance
The Dream Song of Olav Åsteson
In a translation by Rudolf Steiner
Eurythmeum CH
Schreinerei Auditorium (12)

Staged Reading
Fire in the Temple I
The burning of the first Goetheanum
Rozanne Hartmann
Terrace Room, ground floor (4), in English

Reading
Helene Finckh and her 'little house'
Peter Selg
Helene Finckh House (18), in German

Reading
Apokalypse - die Enthüllung durch Johannes
(St John's Book of Revelation)
A listening meditation with words and music. Part II
Richard Schnell, Johanna Lamprecht
South staircase 5th floor (9), in German

Work group
3x33 years Christmas Conference
Karin Lanz, Frank Spaan
Schreinerei South (13), in German

Social Art
Nocturnal Creations
Illustration of 100 poems
Christiane Quaas
Conference Room 1st floor (7), in German

For joining in
Silence and movement to start the year
Inwardness and physicality
Sonja Zausch
South Studio, 6th floor (10)
Guided tour
De Jaager House
Private residence and studio
Denis Ruff
Haus de Jaager (16), in German

Film
The First Goetheanum
Human and cosmic architecture
Bernard Bonnamour
English Auditorium, ground floor (6), in German

Exhibition
History and model of the First Goetheanum
Schreinerei South (18)

Exhibition
Room of the sculptor Edith Maryon
Eurythmy House (19)
2 am
Concert
The Dream Song of Olav Åesteson
Translation by Dan Lindholm, sung by
Kim Bartlett
West staircase, 1st floor (2)

Reading
Geschehnisse in der Brandnacht I
(Events in the night of the fire)
Documents held by the Solothurn Council
Babette Hasler
Terrace Room, ground floor (4), in German

Work group
Die 12 Qualitäten der Nachtstunden
(the 12 qualities of the night hours)
Denis Ruff
Schreinerei South (13), in German

Reading
Helene Finckh and her 'little house'
Peter Selg
Helene Finckh House (18), in German

Communal singing
Chain of candles around the Goetheanum
Looking back and ahead with candle light and singing
Jörg Ruof
Outside main entrance (1)

Reading
Apokalypse - die Enthüllung durch Johannes
(St. John's Book of Revelation)
Listening meditation with words and music. Part III
Richard Schnell, Johanna Lamprecht
South Staircase, 5th floor (9), in German

Exhibition
Rudolf Steiner Studio
Schreinerei, entrance on the right (15)

Exhibition
Hochatelier
Rudolf Steiner's and Edith Maryon's carving studio
Schreinerei, blue façade (14)
3 am
Performance
Eine Annäherung an Novalis
(Approaching Novalis)
In eurythmy and recitation
An initiative at the Eurythmeum
Schreinereisaal (12)

Staged Reading
Fire in the Temple II
The burning of the first Goetheanum
Rozanne Hartmann
Terrace Room, ground floor (4), in English

Recitation
"Man schafft durch Worte echte Lebenskräfte…"
('With words one creates genuine life forces…')
Extracts from the Mystery Dramas
Martin Lunz
Schreinerei South (13)

Reading
Geschehnisse in der Brandnacht II
(Events in the night of the fire II)
From the memories of Alexander Strakosch, Assia Turgenieff, René Maikowski
Babette Hasler
Helene Finckh House (18), in German

Guided star observation
Von Mars zu den Sternen
(From Mars to the stars)
From nearby planets to nearby stars to the remote Andromeda galaxy
Wolfgang Held
Kepler Observatory (17), in German

Workshop
Das Mistel-Goetheanum
(the mistletoe Goetheanum)
Experiencing healing power and etheric sheaths
Raphael Kleimann, Susanne Burdick
South Studio, 6th floor (10), in German

Social Art
Nocturnal Creations
Illustrating 100 poems
Christiane Quaas
Conference Room, 1st floor (7), in German

Exhibition
History and model of the First Goetheanum
Schreinerei South (13)

Exhibition
Sculpture Group
South staircase, 5th floor (9)
4 am
Piano recital
Music from six countries
Works by Bach, Grieg, Chopin, Rachmaninov, Liszt, Ravel and others
Eva Meyer
Schreinerei Auditorium (12)

Work group
Der Erde Zukunft geben
(Giving future to the earth)
Kurt Eschmann
Schreinerei South (13), in German

Sharing
From the Temple Legend to the Christmas conference I
Henric Lewengard
South Studio, 6th floor (10), in English

Film presentation
The First Goetheanum
Human and cosmic architecture
Bernard Bonnamour
English Auditorium, ground floor (6), in German

Exhibition
Rudolf Steiner Studio
Schreinerei, entrance on the right (15)
5 am
Eurythmy & Recitation
Wir fanden einen Pfad
(We found a path)
Poems by Christian Morgenstern
Andrea Fitzlaff, Martin Lunz
Schreinerei Auditorium (12)

Sharing
From the Temple Legend to the Christmas conference II
Henric Lewengard
South Studio, 6th floor (10), in English

Reading and conversation
Schmerz und Aufbruch
(pain and new beginning)
Rudolf Steiner's lecture on 31 December 1923
Jens-Peter Manfrass and Danièle Bourbon
Schreinerei South (13)

Exhibition
History and model of the First Goetheanum
Schreinerei South (13)
6 am
Piano recital
Pictures of an Exhibition
Modest Mussorgsky
Ulrike Wirth
Schreinerei Auditorium (12)

Lecture
Novalis
Schutzgeist der Anthroposophie und des Goetheanum
(Guardian spirit of Anthroposophy and of the Goetheanum)
Michaela Glöckler
South staircase, 5th floor (9), in German

Eurythmy workshop
Zodiac and Planetary Gestures
with music
Klaus Landherr, Uwe Bergmann
South Studio, 6th floor (10), in German

Exhibition
Rudolf Steiner Studio
Schreinerei, entrance on the right (15)
7 am
New Year's Lecture
Weltenbrand - Das Stehen vor dem Nichts im Sozialen
(World burning – facing the social void)
Gerald Häfner
Schreinerei Auditorium (12), in German

18th Class Lesson
Das Stehen vor dem Nichts
(Facing the void)
Matthias Girke
for Members of the School of Spiritual Science
Foundation Stone Auditorium, ground floor (3), in German

Exhibition
Sculpture Group
South staircase, 5th floor (9)

Exhibition
History and model of the First Goetheanum
Schreinerei South (13)

Exhibition
Room of the sculptor Edith Maryon
Eurythmie House (19)
8 am
Breakfast
Buurezmorge
charges apply
Foyer, ground floor (5)
9 am

New Year's Concert
Works by Leopold van der Pals
Tobias van der Pals, Christine Pryn, Jacob Lidakra
Main Auditorium (8)

Subject to changes